Attention: If You're Tired, Fed-Up, Frustrated or Burned Out from Voice Overs
If You're Struggling with Winning Auditions, Traffic, Landing Clients & Marketing
Looking For the Perfect Solution -- or Are Even Starting From Scratch...
Leaked & Brand New:
"Who Else Wants to Know:
How I Generated An Extra

$4200+ Per Month


(Starting Over From Scratch)
From Just 60 

Minutes

 Per Day?"
Without Knowing A Single Thing About
The Voice Over Business...
From: Lance Tamashiro & Robert Plank
Date: Monday, 8:38AM
Dear Frustrated (But Smart) Voice Over Talent,
Do you remember the first time you discovered the Voice Over business? Do you remember how excited you were during those first couple of days about the possibilities? Do you remember your dreams of success?
Quick Question #1:
Is Voice Over Success FACT or FICTION?
I don't know about you, but here's what I wanted, here's what I was told, and here's what I believed about my "ideal" voice over business:
I could set my own hours (morning, noon, or night)
I could sleep in as late as I wanted (and do it on my own time)
I could do it all from my house in my pajamas, or while on the road across America, or from any country in the world (freedom)
I could literally talk into a mic, audition and land gigs instantly (easy lifestyle)
I could ramp it all up within a month or two (I don't want to wait years)
Whether you're looking to make ends meet, get out of debt, add another income stream, or build up your nest egg for the future... wouldn't a simple one thousand dollars, five thousand, ten thousand dollars or more in the very near future accelerate the progress towards your next life milestone?
"Just this morning I had made back the amount that I invested in this course!"

My thoughts about this course are just to say thank you so much for sharing all of this information. I really appreciate your demeanor and style. My husband was watching the webcasts over my shoulder and, he really appreciated everything you had to say. Just your business sense and common sense approach is much appreciated. You used the word integrity on your Facebook post this morning, and your own integrity is obvious to us.

Just to give you my background; I have no experience as a voice over talent. I have had vocal training for singing, but no specific voice over training. I have a degree in physical therapy, and I worked with children with disabilities or injuries for my whole career. I loved it, but we now hove four children of our own ranging from just about to enter high school down to a kindergartner. For the past four years I have been home full time with them because we didn't want to miss out on these important years. My husband is also a physical therapist, and we have simply made it work. When you go to school for a specified field like this, it is hard to see how to move out of that into a business model, but we both want to do that.

But for now, we really would like to go on vacation...

And save for college... small things:)

My husband already has a small side business in video/media so he had a really good mic and Adobe Audition. I just couldn't figure out how to get started without investing a lot in training and demos. I didn't want to invest too much if it was going to be a dead end. I have been on fiverr for about 40 days now (I made an account to check it out before signing up for the course) and just this morning I had made back the amount that I invested in this course! I thought that was pretty cool! I definitely need coaching and a demo, but I am on my way to actually being able to pay for that with my fiverr business. That makes so much more sense to me.

All that to say, this has been a great experience. I am hoping to become a little better with workflow since I truly do not have more than 1-2 hours to give to anything else on my full plate. I, for one, am very glad that fiverr seems to just give you a little more in measured amounts, otherwise I would be extremely overwhelmed. I have gotten 5-6 orders a day for the past 4 days and I am using my whole hour to finish those. I can keep up with the responses throughout the day on my phone, but I really appreciate the practice of recording this many (or this few, I guess). I was faster today, so it's a good learning pace for me. When they up how many orders they send through again, I feel like I will be ready for it. Shockingly, my buyers have been pleased with my work. I think customer care is more important than talent in this case (probably in most cases).

Hope this feedback helps you in some way.

My husband wanted to say thank you as well, and now he is planning to start doing voice overs for an hour a day too! How fun is that!

I wish you all the best.

Regards,
Jody (and Jeremy) Smith
Quick Question #2:
How Much?
How much money would it take (per month) to quit your job, buy that house (or at least cover the down payment), retire (even 5 years earlier), get out of debt, or just increase your income by 10 percent per month?
$100/month


Cover the costs of your websites, office equipment, or cell phone bill
Have enough money to hire a virtual assistant
Generate extra spending money or gas money

$500/month


Lease a BMW or Jaguar
Cover the cost of renting an office
Build up an emergency cash cushion in your bank account
Save up enough for a nice vacation

$1000/month


Lease a Tesla
Pay for your kids' college fund or car payments
Have enough money to hire an employee
Afford a bigger house or apartment

$5000/month


Pay off your mortgage early
Max out your retirement account
Buy a second home or third car
Replace your day job income
Note: How much money you make is entirely up to you. The above is simply what WE would do with that extra spending money.
Pay very close attention to this web page because we're about to reveal what you can do, starting today, to ACTUALLY make money as a voice over talent/artist.
"Thank You So Much..."

Thank you so much for all you've done with this course. You have no idea what this is going to mean for me, and my future. Because of my full-time job, youth & kids ministry, family, etc. it has been so hard to break into the voice over industry without going into debt.

You've given me hope & encouragement that through these methods and persistence that with Fiverr alone I'll soon at least make enough to leave the job I'm at and build from there.

Your desire to help people like me has been very uplifting and I pray you continue to have great success. Thank you for having a teacher's heart and drive to give people the direction they need.

Matt
Whatever up's, down's, and plateau's you've experienced in your voice over journey to-date, I sincerely believe it's far from over. I also know that because you've made your way to this web page, and are reading these words in front of you, you are somewhat dissatisfied or at least BORED with the current direction you're heading.
I would even guess that if I could show you how to make $96-$307 dollars per hour online as a successful voice over talent without name recognition, auditions or even previous experience then you'd be interested in replacing your current efforts with this easy income stream.
"Made my first $100 week on Fiverr thanks to you!!"

Hey Lance,

I just wanted to thank you for all the help and support you have given me through the VO Success Formula. I'll admit, I had my doubts at first and actually thought this was just another ordinary voice-over workshop that promises a lot and delivers a little. You and your program did the exact opposite, you set realistic goals and delivered much more than was promised!

You have taken my "newbie" voice-over career to heights I never expected. I honestly thought that I would have to spend thousands on equipment, coaching and workshops before I could see a dime of return on my investment.

Your program defies that and with using Fiverr, not only am I making money while learning, I am getting better at honing my voice-over and editing skills and I am becoming a better marketer while earning money.

I can't thank you and Robert Plank enough for the success that I have seen in just a few short months and the great marketing skills that every voice-over talent needs to make it in this business.

Thank you, Lance, for everything,
Scott Earley
The Ultimate Solution:
Use A Site with Built-In Buyers Looking For Voice Over Talent Like YOU...
Why do most NEW voice over talent struggle to get hired and become discouraged with sites like Voices.com and Voices123.com?
Answer: because EVERYONE is competing for the SAME jobs!
"More Than Skeptical At First..."

Lance, THANK YOU for sharing your Fiverr VO Success Formula.  I have been at voice over for a little while now."

I have been slow to get the traction I'd like, due in part to time conflicts with other business interests and obligations, but also due....I think....to some of the conventional and/or institutional barriers to entry in a new field.

I can honestly say Fiverr wasn't exactly the approach I envisioned for my voice over business. I was a little more than skeptical at first, particularly due to the basic $5 premise of Fiverr.  But I quickly came to see the value of your system.

It makes perfect sense to build rankings within the Fiverr community while proving myself, exploiting opportunities for up-selling and scaling my business as I move along.

I completely appreciate and respect how you took something that was new territory to most people, and broke it down into manageable and understandable pieces, sharing the "inside baseball" nuances of Fiverr as we went along.

You have a great teaching style and friendly demeanor, which makes you very easy to listen to and learn from.  I probably have far more flexibility in my daily schedule than most folks, but your system is one that anyone can follow.

I'm looking forward to continuing to implement the systems you taught, and build my Fiverr VO business.

David Yared
Consider a site like Fiverr. This is a job site where business owners are looking to outsource quick voice over jobs for $5 to $500.
No slating, no auditioning... These customers DO NOT want to receive a ton of files. They want to "window shop" for a few minutes, find a voice they like, hire them and get the project back quickly...
"I Had No Idea There Was Another Path!"

Hi Lance,

I will be honest, when I received notification of your class and the invite to participate I was a bit hesitant but excited to sign up. I wanted to learn more but I was also afraid that because I didn't even know how to create a wav file of Mp3 file I shouldn't take the class at this time. But what if the chance didn't come up again? So I went for it and I'm glad I did. Why? Because I had no idea there was another path I could possibly follow to help eventually meet my goal of getting into this business. You are an EXCELLENT instructor who is personable, informative and patient.

Thanks for holding the class, Lance. And for teaching us so much.

Most appreciatively,

Michele A. Struble
In fact, here's just one Fiverr "gig" I provide that's been viewed over 1.5 million times and been purchased over 2,000 times:
"$950 in 1 1/2 Months!!"

Hey guys!

I wanted to let you know that in just 1.5 months on Fiverr, I have just become a Level 2 seller today!! Hooray!!! I have 59 x 100% positive reviews with 5-star ratings from 58 reviews and one 4-star rating. I have made around $950 - not a bad start. 🙂

I have synced to video once with 5 stars and added and edited to music several times to 5 stars also. I have done everything from e-learning to explainer videos to whiteboard animations to radio station imaging to local radio spots to a book trailer for a Pulitzer Prize winning author Anna Quindlen for her latest novel Miller's Valley and my Mom attended her book signing at B&N in NYC and told her about it and we both got signed copies and she told my Mom to thank me!

I even created a second gig for directing me live from my studio for $75 per 15 min session and have done this for 45 mins with one creative team in LA to 5-stars.

I have many repeat clients and one daily regular client. Loving this! Thanks so much!!!

Still auditioning for Voices and getting nowhere. Strange, after 16 years as a pro in NYC who booked my first national radio spot on day 6 of auditions. Voices has been a tough nut to crack.

Oh well, Fiverr has been wonderful!
Much love,
Genevieve H.
VO Success Formula:
"Earn a Full-Time Online Income
with Part-Time Fiverr Micro-Jobs
Starting From Scratch"
Step 1
Make Your First Sale
(get up and running)
Step 2
Increase Income
(get more upsells)
Step 3
Multiply Profits
(get more customers)
Step 4
Scale
(get paid more for less time)
They laughed when I said I was taking $5 dollar payments on Fiverr...
They said I would never get paid like a "REAL" voice over talent... until...
I showed them my "1 hour per day" income!
"Game Changer"

Your "pioneering" course has been a game changer for me, (and I'll assume for everyone else who took it), who now have hope of actually creating a voice over business that earns money!

Having taken many VO courses over the last 6 years, what particularly shines to me about you, other than your deep knowledge about internet marketing, is your integrity and honesty.  Your steadfast message to provide fast responses and great service to build one's reputation in the marketplace came through loud and clear amid the rich mine of technique of searching out actual business on Fiverr.

I'll be reviewing your podcasts very soon to learn more about internet marketing, and how I might more quickly create a renaissance in my business. It would seem that I have a new mentor.  🙂

Thanks,
Don M.
Fiverr is the 474th highest trafficked site on the Internet. There's easy money (with built-in traffic) for the taking.It's also ultra-important to get a jump on this process, and set it up NOW rather than later, before someone else beats you to it (or you simply forget and miss out on the opportunity of a lifetime)...
"A New Approach To VO"

Lance Tamashiro's VO Success Formula class moved so many of us from marketing and repeatedly auditioning to consistently working as voice talent.  Thank you, Lance, for showing us this new way to approach the beginning of the voice over business!

 Trevor Croft
Fiverr Is The Superior Marketplace
For You To Make Money As A Voice Over Talent
(For A Number of Reasons...)
Not only does it send you gobs of buyer traffic on demand, they'll also quickly ramp-up your sales and income once you've proven yourself.
And remember, Fiverr income is usually NOT about little $5 dollar sales! True, five dollar jobs are great ways for new leads to try you out, but we regularly get payments for $40, $95, and $210 that only take MINUTES to fulfill...
If you tried this alone (without a guide), chances are you'll over-work yourself, burn out, or give up before the miracle happens. That's why you need the VO Success Formula online home study course to setup your Fiverr Voice Over business, expand that income, multiply your efforts, and finally scale your new business as you have more and more fun with it.
"$400.00 Only 2 Months Into My VO Career"

Hey guys,

I wanted to send you three a personal thank you, away from FB. I just hit level 2 seller today on Fiverr. And it is amazing to me that I did this in 2 months considering how much I was struggling mentally just 6 weeks ago. And I am not exaggerating. I was REALLY struggling mentally.

The most important thing the fiverr program has done for me was provide me with confidence. I had absolutely none as recently as mid-March. Now, 52 orders later and almost 400.00 richer. And I'll take that 400.00 for sure only 2 months into a VO career.

I can do this now. I know I can. And I owe a lot to you guys.

Thanks so much,
Michael Carr
"Thoroughly Pleased!"

I am thoroughly please with the webinar's and the information you presented. The information was great and I was able to implement it right away.  It really help me to understand how Fivver operates.

The actionable goals you gave us help motivate me to take action..

Thanks,
Wade D.
Digital Module 1:
Setup Your Gig & Start Selling
Let's not waste time. I am going to show you my EXACT gig. How it is setup (and why it is setup the way it is) and then give you my exact template to have you up and running immediately.
You'll also discover and uncover:
The 22 second "hack" involving your smartphone that boosted sales for us overnight -- just this alone puts you in the top 10% of sellers
Several quick hacks (that take less than 10 seconds each) that more than double Fiverr income compared to the typical "lazy" sellers who don't take it seriously
How to make more sales by taking LONGER to deliver your orders!
How to get your first buyers within the next few days, if not sooner -- from scratch, without a list... if you've been looking for "proof" that making money as a voice talent just starting out is, then this is it!
Our number one goal as you begin your VO Success Formula journey is for you to scratch your head in wonder and ask yourself, "Is it really that easy and simple? Have I made it too complicated until now?" The answer is most likely a resounding YES!
"Opened My Eyes"

Hi Lance,

Thank you so much for this course.

It has opened my eyes to not only Fiverr, but some general business practices. Business isn't one of my strengths and it should be for a freelancer to make money.

I'm always looking for ways to improve my VO business, and this is definitely a step in the right direction.

Thank you again, and here's to your VO success.

Grant B.
"Something I Would Never Thought About"

Thank you for sharing!

This course, however, is something I NEVER would have thought about it in the slightest because I had no clue it was available for VO! I'm excited to see it grow into another strong arm of my business.

I've had gradual success over the past few weeks on Fiverr, primarily through __________ and following your daily system. I know this will be an avenue of strong earning for me in a relatively short while, so I can't thank you enough for providing the guidance and information. I hope that I can reciprocate the favor somehow in the future for you!

Todd Haskell
Digital Module 2:
SEO & Customer Service
Your results and your effort are entirely your own, but we're hoping that once you "break through"... once you're paid for the buttons and clicks you put into the computer, you'll become addicted to making money (in a good way), and you won't want to stop!
Making that first sale was great, but how do you transition from measly $5 sales into meaty $100 and higher priced sales?
We'll show you...
How I turn many $5 sales into $25-$45 sales without any extra time or "labor" (easy)
The ranking factors that put your services at the top of the search results (which means buyers pour in effortlessly)
A simple social proof technique you can use after the sale that yields a 5.8% conversion rate (5 out of 100 people who come to the page buy, which is huge)
How to phrase and assemble your titles, descriptions by breaking the "tired" rules of web page copywriting
Using VO Success Formula, we'll show you how to achieve financial freedom faster simply by following a few simple steps. Do you want money two years from now, or RIGHT now?
"Incredibly Useful!"

Lance

I can honestly say that I have never participated in a more honest web series in or out of VO. Your honesty about the VO business was refreshing, your tutorials on Fiverr process precise and your marketing advice incredibly useful. Thankfully the webinars can be reviewed as needed as there is a wealth of information in each of them.

Fantastic job!

Thanks
Ronney
"Allowing My to Break Into VO WITHOUT Going Into Debt!"

Hey Lance,

Thank you so much for all you've done with this course. You have no idea what this is going to mean for me, and my future. Because of my full-time job, youth & kids ministry, family, etc. it has been so hard to break into the voice over industry without going into debt.

You've given me hope & encouragement that through these methods and persistence that with Fiverr alone I'll soon at least make enough to leave the job I'm at and build from there.

Your desire to help people like me has been very uplifting and I pray you continue to have great success. Thank you for having a teacher's heart and drive to give people the direction they need.

Thanks again,
Matt P.
Digital Module 3:
Joint Ventures
How far do you want to go with this? Are you happy dabbling with just 1 sale a day, or can you pack 10-20 (or more) high paying voice over jobs into one 60-minute session? Luckily, Fiverr wants you to succeed and if you follow the simple rules we show in this course, you'll skyrocket and grow your Fiverr voice over business each and every month...
How to claim an instant 220% boost by using this easy (and free) online tool to personalize your gig
How to joint venture with other sellers (this is unique to the Fiverr marketplace) and sometimes arbitrage your way to bigger and faster income
A simple "tagging" tweak you can apply to your new or existing services (by reverse engineering what's already effective)
"Heartfelt Thanks..."

My heartfelt thanks for setting up this seminar on how to leverage to full potential of fiver. Despite my tech background I literally delved into recording voice overs on Fiverr with very little experience as a VO actress.

Now, 4 weeks later I am regularly receiving buyer requests ranging from classical commercials, promo and sales videos to scripts for a radio drama. This has been an incredible month, and I was amazed not only about my learning curve but the positive feedback from buyers...

I could have not done this without your seminar series.

My sincerest thanks to all of you.
Best,
Anjoscha
Digital Module 4:
Traffic, Reviews & More Sales Opportunities
What is this all leading to? Let us show you how to always land those $100-$200 and "competition-proof" yourself against other buyers and sellers in the marketplace. While others slave away 12 hours a day just for $10, you're making as much money as you want from just 30-60 minutes per day...
How to systematize and literally "click" just a few buttons anytime you want to ask for more sales and talk to your buyers (or prospects)
The perfect "litmus test" for deciding what business to take, and which to reject -- yes, we'll get you to the point where you can actually turn away the business you don't want
The source of over 50% of our high-ticket ($50 and up) sales... most Fiverr sellers don't use this method at literally miss out on half of their potential sales. We doubled our income as soon as we applied this easy method
Although the results from this course are 100% dependent on you, we want to show you how we've built up enough money to pay for a mortgage, multiple cars, food, travel, bills, and more, from scratch, in just a few months, from just one hour a day.
How much money have you already missed out on by not discovering VO Success Formula sooner? How much more money will you continue to lose if you don't give us a chance and see what might happen, if and when you apply our system?
"VO Game Changer"

Thank you so much for the wonderful class. It really is a game changer. I appreciate how you systemically broke down the Fiverr process, setting us up for great success and then going on each week with new marketing tips to grow our business. Tips that will not only help me in my Fiverr endeavor but that I can use on other websites, etc. Your video was easy to understand and you have been so accessible to me and to the rest of the group with answering our many questions.  Thank you.

As of today, I have had over 4K impressions and 522 views!  I am a Level 1 Seller with 16 sales that have generated $224 in sales. So, in one month, I have made back the price of the class!!! Astounding!

I look forward to all of our continued successes and will be reporting my progress to you from time to time.
Sincerely,

Heather F
Free Bonus 1:
Recorded QA Call
Now that you have your new voice over system in place and you are taking orders you will most likely have questions about what do next and how to take it to the next level. Maybe you will be wondering how to leverage what you are building into bigger jobs?
Lance will personally answer any question you still have (even evaluate your gig if you like) and make sure you have everything you need in order to succeed.
"Confidence & Momentum"

I have really enjoyed this course.  Your attention to detail has been fantastic!  I was feeling like I would never make any money in voice over until I tried this, and I really need to because I am partially retired and I need the money.

And I did have to think about taking the course because of the controversy.  But, here is what I decided after doing the research:  I don't like people playing that elitist garbage with me, saying that doing Fiverr hurts their income and that anyone who does that kind of thing is a bottom-feeder.  Well, I am 66 years old and I can tell you I have always been a bit of a rebel.  You know - don't tell me what I can and cannot do and don't try to guilt me.  I hate it and I will try with all my being to prove you wrong.  (Ask my sweet husband - LOL).  Besides, I took economics in college, and since when, in a free economy do we do price setting?  I think not.  I am proud to be working at Fiverr and I am making the first money I've ever made in voice over.  I don't see how it is hurting anyone.

Sorry, off the soapbox, I really love the step by step instructions that you had in the course.  I liked the pdfs because I like to underline stuff - it helps me study and remember important points. The only thing that is frustrating to me is that, in order to do joint ventures, I apparently have to know how to video sync.  So that's holding me back a bit, but not for long, because I am going to learn how to video sync and add that to my list of skills.  I also love the FB group.  What a great idea!  It is a very supportive environment and has been beyond helpful.

So, really glad I took this class.  I finally "got my feet wet" and got some jobs.  That has given me the confidence and momentum to go forward. Also, I have received some wonderful feedback and that has helped me see that choosing to do voice over was the right thing to do.  People DO like my voice.  I am gratified.

Thanks again,

You are amazing!

Linda Jo Pool
Free Bonus 2:
Personal Cut-n-Paste Swipe Files
VO Success Formula is designed for you to quickly master and dominate the Fiverr voice over niche, without any frustration, and take control over your own destiny. If that means you simply turn it on during a week when you want more money, if it means you want to put in a full 30-60 minutes per day, if you want to master only ONE skill or leverage 10-12 money-making activities, then this is the course for you.
Simply login to the member's area (after you join), at any time 24 hours a day, grab the pre-written "responses" from our fully tested swipe file, and paste it right into your Fiverr account.
"Mega Blessing"

Thank you Lance! This was a great course and I am so grateful that you put it together.

I've had the training, the equipment, the practice and even worked a bit in the VO industry but this has given me a huge push in a positive direction. I was about to stop it all together because it just wasn't going anywhere and I needed to focus on earning a living.

Getting paid even $5 per gig is encouragement that you just don't get the traditional way. Also the daily practice, editing, working with clients, both demanding and easy, has been amazing growth for my VO business. I am truly grateful for the knowledge you shared in the class.

I'm watching my business grow again and that is just a mega blessing! THANK YOU!!!

Take care,
Stephanie
This is Urgent:
Don't Miss Out On This!
What would the haters and naysayers say if you failed in your voice over adventure? You would be proving them right. Even if Fiverr income is only a temporary situation or "side gig" for you, we built a $1000-$5000 per month from just 30-60 minutes per day.
If you don't take the jump and apply this technique to your new or existing voice over business, will you be able to live with that future guilt of what you might have achieved? Don't waste your potential...
VO Success Formula is the perfect answer if you're looking to finally make some use of the expensive mic and equipment and turn your "hobby" into a career...
"First 9 VO Sales!"

Being a novice in VO, I recognized this program as an opportunity to break into voice overs at a lower level, to be able to get my feet wet, and to gain practice and more knowledge without actually having to worry about fully running a business right off the bat. Tasks like marketing, accounting, and the like, in my eyes would be simplified in this environment and perhaps I could grow as a talent in simpler steps if I began here.

Personally, I knew almost nothing of Fiverr before I joined, and I'm still not a multi-millionaire as a result, but it has given me a good start making money I wouldn't have made this soon in VO, otherwise.

At this point, (a few weeks into the program) I've made my first 9 sales, and I feel I'm picking up speed as time goes on. This is something you have to be in for the long haul. There is no free lunch, but I do feel I've made real progress during the program and will continue to make more ahead.

Through Lance Tamashiro, Robert Plank, and the entire Facebook group that is part of the program, I've not only gained an understanding and familiarity of Fiverr (even an advantage), but just from hanging out with so many great people, I've increased my VO knowledge in ways I wouldn't have thought I could. But most of all, being a VO novice, and having to keep up with the recommendations of the program, I've gained experience and confidence.

Even if I had made NO sales and received only what I just mentioned from the program, I would consider my entry fee well worth it. The ability to make some money, besides, is really a bonus to me. And I'm absolutely convinced that if I stick with it, it can be MORE than just a LITTLE bit of money.

One last thing – you won't find better guys – honest, sincere, and helpful, than Lance and Robert. And let me add, you won't find a more supportive group of people than those in the program's Facebook group.

Barry Anderson
Here's Everything You'll Get Instantly,
As Soon As You Join the
"VO Success Formula"
Online Training Course...
Included Today
Online Training: 4 Modules
Module 1: Setup Your Gig and Make Your First Sale
Get started quickly, within the next few minutes
$497.00
Module 2: SEO & Customer Service
Use ranking factors to increase reviews & traffic
$697.00
Module 3: Joint Ventures
Joint ventures
$497.00
Module 4: Traffic, Reviews and More Sales Opportunities
Increased Traffic and leveraging sales
$497.00
Time Limited Bonuses
Bonus 1: Recorded QA Call
$497.00
Bonus 2: Personal Cut-n-Paste Swipe Files
$997.00
Bonus 3: Access to Private Facebook Group With Monthly QA Sessions
$997.00
Challenges for Each Module: easy assignment after each session
$497.00
Video & Audio Training: available 24 hours a day
$197.00
Checklists: step-by-step easy to follow instructions
$197.00
24/7 Access: come back and login anytime
$497.00

Total Real World Value Today:
$6,067.00
Your Price Today:
Just $247
And It Comes with This 30-Day
"No Questions Asked" Priority Guarantee!
If you can't complete this system within the next 30 days, I demand you fire me from your business and you get your refund.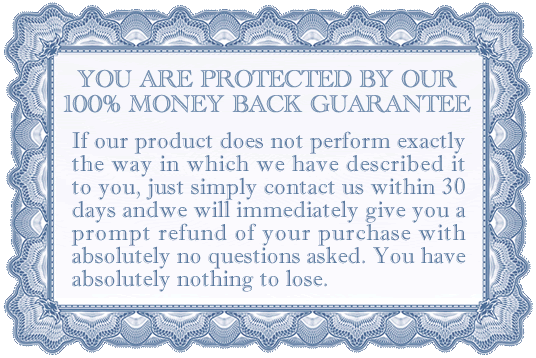 But I'm confident you'll stay in, you'll implement our systems, and you'll send us a testimonial telling us how much more you've accomplished after finding us and taking our training.
"Nothing To Show For My Efforts Until This!"


Play Video